Berta lives: Keeping the struggle alive, despite the risks
Berta lives: Keeping the struggle alive, despite the risks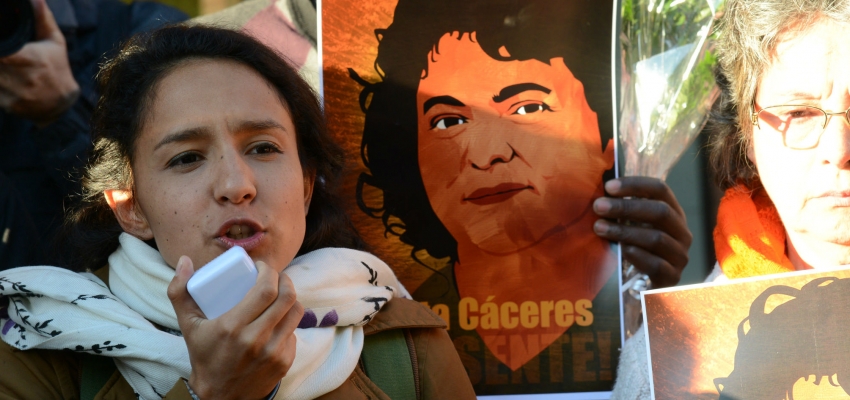 By Scott Squires
On June 30, Berta Zúñiga Cáceres, the daughter of murdered Honduran environmental activist Berta Cáceres, survived an attempt on her life.
She was traveling home with two colleagues when men wielding machetes stopped her car. As the men raised their weapons, Zúñiga's driver hit the gas and swerved around the attackers, but not before one assailant hurled a large rock that struck their windshield. The attackers pursued the activists, attempting to run their car over the edge of a cliff. Fortunately, Zúñiga and her colleagues narrowly escaped.
Six days later, FMO and FinnFund, two European development banks, announced their official withdrawal from the Agua Zarca dam, which Zúñiga is fighting because it would flood a site sacred to indigenous Lenca communities.
"The timing of our exit announcement is not related to the attack on Ms. Berta Zúñiga Cáceres," FMO spokesperson Christiaan Buijnsters said. "It is coincidental."
In a press release, FMO and FinnFund said the exit was "intended to reduce international and local tensions in the area."
Before she was assassinated in her home in 2016, Berta Cáceres campaigned forcefully against the dam, winning the prestigious Goldman Environmental Prize for her work. Zúñiga, 26, took over her mother's leadership role in the Civic Council of Popular and Indigenous Organizations of Honduras (COPINH) in June 2017.
Environmental activists in Honduras are still fighting the dam, but the Central American Bank for Economic Integration has yet to pull its financial support for the project.
"I was born into a people of great dignity and of great strength," Zúñiga said in an interview with independent US news outlet Democracy Now. "My mother, Berta Cáceres, instilled in us from a very young age that the struggle is rooted in dignity and that we must continue forward defending the rights of our people."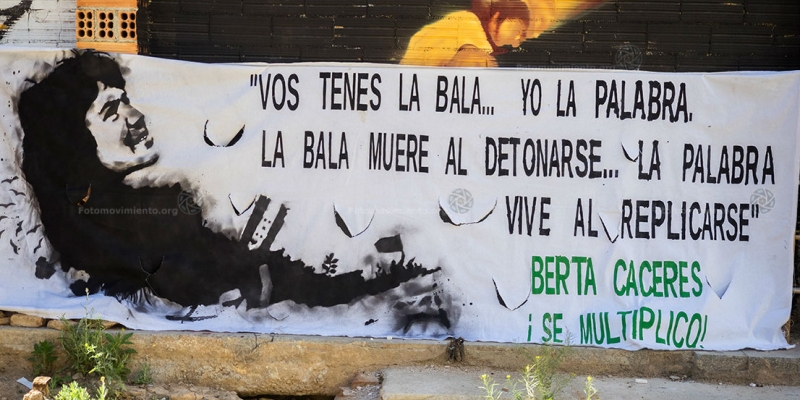 Systems of corruption and impunity
The attack on Zúñiga is the latest in the world's most dangerous region for environmental defenders.
In Honduras, between 95 and 98 percent of crimes go unpunished. Collusion between governments and corporations often shields the assassins and those who hire them to stifle environmental and human rights activists. Unfortunately, families of murdered activists like Cáceres rarely see justice.
But there is still hope.
Following a global outcry after Cáceres' death and demands for an investigation, nine people were arrested in connection to her murder. Some are connected to Desarrollos Enérgeticos, S.A., the company constructing the Agua Zarca dam. Court documents also suggest the assassination was planned by military intelligence specialists linked to Honduras' US-trained Special Forces.
Despite these arrests, the major orchestrators of the assassination have yet to be charged. COPINH has denounced the hearings in the case, claiming that the government's prosecution is full of flaws and irregularities. Meanwhile, killings and attacks like the one on Zúñiga continue.
"We know that in Honduras it is very easy to pay people to commit murders," Zúñiga said to TeleSur in 2016. "But we know that those behind this are other powerful people with money and a whole apparatus that allows them to commit these crimes."
Yet Zúñiga and COPINH remain undeterred from their fight.
"We are going to continue forward in our struggle," Zúñiga said to Democracy Now. "Part of our struggle is to break this cycle of impunity."
She is motivated by her mother's advice: "Let us wake up, humankind! We're out of time. We must shake our conscience free of the rapacious capitalism, racism, and patriarchy that will only assure our own self-destruction… Let us build societies that are able to coexist in a dignified way, in a way that protects life. Let us come together and remain hopeful as we defend and care for the blood of this Earth and of its spirits."
If we take those words to heart, the struggle for a greener and more just world—along with the spirit of Berta Cáceres—will live on.