Climate Finance
Climate Finance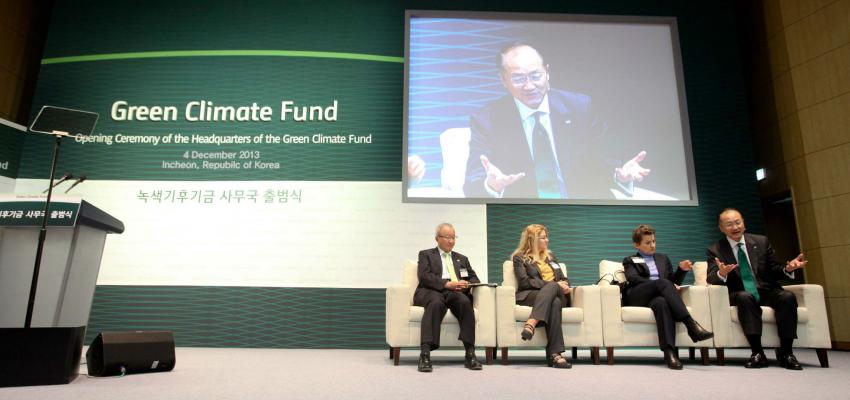 Latin America will be hard hit by climate change because the region lacks the financial and technical resources to properly prevent and prepare for its effects.
Aware of the severe impacts a changing climate will bring, many governments desire rapid action to stem emissions. Fortunately, international governments have begun to contribute to more than a dozen funds for climate action, the largest of which is the Green Climate Fund (GCF).
Many Latin American governments and NGOs, however, lack sufficient knowledge about international climate finance. Since 2010, AIDA has developed expertise in climate finance and has begun generating interest among government and civil society players throughout the region.
Early work in the field involved recommending improvements to the World Bank Group's Energy Strategy; influencing the climate strategy of the Inter-American Development Bank; and increasing awareness at the Brazilian Development Bank (BNDES) of the socio-environmental impacts of its investments in Latin America.
Our Focus Areas
As a regional organization, AIDA advocates before governments and financial institutions for policies that promote projects that are truly clean, renewable and sustainable. Pursuant to that goal, our work is composed of four key elements:
Promoting sustainable, predictable, adequate and measureable climate financing under the United Nations Framework Convention for Climate Change. We urge nations to meet their obligations, and actively engage with negotiators to ensure that resources flow through various funding mechanisms, including the Green Climate Fund.
Advocating for a more effective use of climate finance that is inclusive, accountable and transparent. We work with developing countries to identify potential funding sources, and promote a better use of their own resources. In collaboration with other partners we have assisted GFLAC in the creation of a methodology for tracking climate finance.
Advocating at the Green Climate Fund to ensure it supports projects and programs that are sustainable, transformations, and inclusive. We support the funding of projects that respect human rights, promote stakeholder engagement, and effectively address the needs and priorities of developing countries. As the only Latin American NGO actively participating in GCF board meetings, we engage with board members, promote capacity building, and distribute information on the potential impacts of the GCF in the region.
Enhancing understanding of climate finance for key actors in Latin America, including government representatives. We organize workshops and meetings, and produce documents explaining policies and procedures, to a larger regional audience. As part of this outreach, we have organized several popular webinars on the climate negotiations and the development of the Green Climate Fund.
Achievements
The Green Climate Fund Board has incorporated many of AIDA's recommendations for the design of its operational rules. For example, AIDA was instrumental in ensuring the establishment of a redress mechanism so communities can raise concerns when GCF projects or programs affect them. We also worked with allied organizations to spur the Board to provide a 30-day public comment period on the design of its Information Disclosure Policy. The board also made a decision to include participatory monitoring at all stages of the project/program cycle. This is a clear victory and a step towards wider participation and transparency.
AIDA has also helped to increase awareness among governments and civil society of the impacts the GCF could have in Latin America. We consistently provide summary reports to inform of GCF developments. We have also organized key events to promote dialogue between Latin American board members and stakeholders in the region, and to strengthen interest among stakeholders to engage with the GCF at the national level.
Joining Forces
To be effective in promoting adequate climate financing, AIDA works in alliance with many other organizations. We are members of the technical team of the Grupo de Financiamiento Climático para Latinoamérica y el Caribe (GFLAC), as well as the Grupo de Financiamiento para Cambio Climático de México. We also collaborate most closely with E3G, World Resources Institute, Climate Action Network International and the Latin American branch of the CAN Finance Working Group.
Related Reference Documents